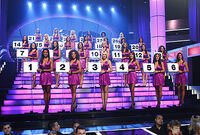 The following is a list of models who have appeared on the US version of Deal or No Deal. While most of the models hold the same numbered case each week, a few of the models hold a different case number each game. All 26 models wear identical dresses and shoes, though the style is changed for each episode.
Megan Abrigo
A.J. Almasi
Angel Archer
Mariela Arteaga
Aliké Boggan
Kelly Brannigan
Kristen Brockman
Sara Bronson
Krissy Carlson
Katie Cleary
Lindsay Clubine
Lanisha Cole
Kim Estrada
Donna Feldman
Alison Fiori
Enya Flack
Stacey Gardner
Lisa Gleave
Lianna Grethel
Kasie Head
Tameka Jacobs
Claudia Jordan
Patricia Kara
Joni Kempner
Bonnie-Jill Laflin
Lisa Lakatos
Pilar Lastra
Aubrie Lemon
Brooke Long
Jill Manas
Meghan Markle
Kristal Marshall
Keltie Martin
Ursula Mayes
Leyla Milani
Crystal Monte
Anya Monzikova
Jenelle Moreno
Hayley Marie Norman
Dawn Olivieri
Amie Peterson
Marisa Petroro
Lindsay Schoneweis
April Scott
Laura Shields
Lauren Shiohama
Amanza Smith
Nancy Stelmaszczyk
Yoi Tanabe
Mylinda Tov
Sonia Vera
Tamara Witmer
m
Deal or No Deal Models Site
The Deal or No Deal Models win the Game Show Award
The Deal or No Deal Models win the Game Show Award (extended)
Ad blocker interference detected!
Wikia is a free-to-use site that makes money from advertising. We have a modified experience for viewers using ad blockers

Wikia is not accessible if you've made further modifications. Remove the custom ad blocker rule(s) and the page will load as expected.