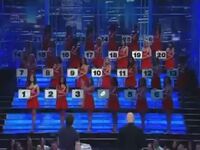 English-Canadian Models
Edit
Five of the 26 models were selected from casting calls in Vancouver, Calgary, Winnipeg, Toronto, and Montreal, joining 21 other professionally hired models. The full list is as follows:
Case #
Model
Where From
Originally From
1
Jessica Rimmer
Toronto, Ontario
Coldwater, Ontario
2
Amber Borde
Toronto, Ontario
3
Megan Lindley
Toronto, Ontario
Coldwater, Ontario
4
Brandi Alexander
Toronto, Ontario
Vancouver, British Columbia
5
Brittany Gray
Pickering, Ontario
6
Daphne Kostova
Toronto, Ontario
Plovdiv, Bulgaria
7
Véronique Landry
(also appears on the French version)
Montreal, Quebec
Chicoutimi, Quebec
8
Hinde Rabbaj
Longueuil, Quebec
9
Michelle Lindo
Brampton, Ontario
10
Chantale Nadeau
Toronto, Ontario
Rivière-du-Loup, Quebec
11
Jessica Antonella Romano
Toronto, Ontario
12
Jennifer Cooper
Waterloo, Ontario
Pickering, Ontario
13
Lilette Wiens
Toronto, Ontario
14
Jill Clark
Toronto, Ontario
Mississauga, Ontario
15
Sarah Laurene Jackson
Barrie, Ontario
Toronto, Ontario
16
Tenika Davis
Toronto, Ontario
Newmarket, Ontario
17
Laura Elizabeth Pilotte
Whitby, Ontario
Pickering, Ontario
18
Nora Kwang
Toronto, Ontario
19
Kylee Evans
Toronto, Ontario
Stellarton, Nova Scotia
20
Jennifer Jacqueline Palamos
Abbotsford, British Columbia
Surrey, British Columbia
21
Siovan Hope-Ross
London, Ontario
St. Maarten, Trinidad
22
Jessica Gabrielle Hebert
Winnipeg, Manitoba
23
Jennifer Fletcher
Calgary, Alberta
Red Deer, Alberta
24
Amanda Perreira
Toronto, Ontario
25
Candace Edwards
Toronto, Ontario
Trinidad & Tobago
26
Shanu Rawat
Toronto, Ontario
Vancouver, British Columbia
Substitute
Angélica Escudero
Toronto, Ontario
Vancouver, British Columbia
Substitute
Katherine Aniela Fergusson-Kurylo
Toronto, Ontario
Saskatoon, Saskatchewan
Despite being a Canadian native, Leyla Milani (who holds Case #13 on the US version) is not one of the models on the Canadian version.
French-Canadian Models
Edit
Monika holds case #1
Sophie holds case #2
Kate holds case #3
Marie-Pier B. holds case #4
Karine holds case #5
Maripier M. holds case #6
Christine holds case #7
Julia holds case #8
Sabine holds case #9
Tyo holds case #10
Karina holds case #11
Gaiia holds case #12
Nadja holds case #13
Véronique Landry holds case #14; also a case model on the English Canadian version, where she held case #7
Cécile holds case #15
Vicki holds case #16
Sofia holds case #17
Martine holds case #18
Marie-Pier V. holds case #19
Oksana holds case #20
Emmanuel holds case #21
Manuel holds case #22
Tom holds case #23
Marc holds case #24
Jean-François holds case #25
David holds case #26
Ad blocker interference detected!
Wikia is a free-to-use site that makes money from advertising. We have a modified experience for viewers using ad blockers

Wikia is not accessible if you've made further modifications. Remove the custom ad blocker rule(s) and the page will load as expected.