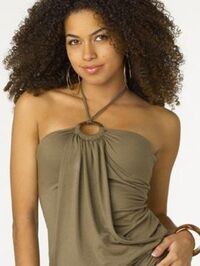 Mariela Arteaga (born in Miami, Florida) is an African-American Model and Dancer. She spent time in the Game Show world as Briefcase Model #8 during the fourth and final season on NBC's Deal or No Deal.
Born and raised in Miami, Florida, Mariela Arteaga is a mix of Cuban, Venezuelan, and Trinidadian descent. she speaks fluent Spanish, and her work experience is as versatile as her ethnicity.
Arteaga has been a dancer all her life. She enrolled in magnet dance programs for both elementary and middle school. Then went on to audition for the prestigious New World School of the Arts High School where she graduated with honors in classical ballet. Mariela then enrolled at Florida International University. Soon afterwards, she started to dance for the NBA's Miami Heat. She balanced school, work, and dance for two years before deciding to leave the NBA dance team in order to start graduate school.
In 2005, Mariela was the youngest in her class to graduate with a master's degree in social work and has worked as both a middle school and high school social worker. Although Arteaga has her degree, her true passion for the entertainment industry has led her to Hollywood to pursue her acting, modeling, and television hosting career.
She has been featured in numerous commercials and magazines and toured as a dancer for various artists such as Diddy, Ashlee Simpson, and Julio Iglesias. Mariela was also a dancer and model for the television show Sabado Gigante and was a finalist on the hit reality show Pussycat Dolls Present: The Search for the Next Doll.
In September 2008, Arteaga took a stab at a modeling gig in the Game Show world. She was one of few newbie Briefcase Models to join the NBC Game Show Deal or No Deal during it's fourth and unfortunately final season. During the first couple weeks of the fourth season, Mariela stood beside Briefcase #2 (for six episodes) before moving up to Briefcase #8 (to replace Lauren Shiohama who moved to Briefcase #12) where she would remain until the series finale episode in May 2009. In season five, she is being replaced by Neka.
Mariela continues to work as an aspiring actress and a model.