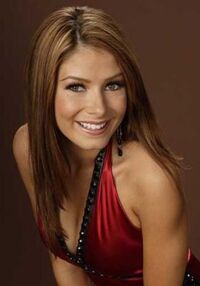 Keltie Martin (born April 14, 1986 in Santa Clarita, California) is an American Model. She is known in the Game Show world as one of the Briefcase Models on the NBC Game Show Deal or No Deal.
Growing up in Santa Clarita until the age of eighteen, family is very important to Keltie Martin. She has a brother who fought in the war in Iraq and twin sisters all of whom she is very close with.
As a child, Keltie enjoyed swimming and gymnastics and while in high school, she joined the track and field team when she competed in the 400 and the 4x4 relay. She also competed in international modeling competitions. Upon graduating high school, Martin decided to pursue a modeling career and signed with Otto Models and has done whatever it takes to be the best model that she can be.
Keltie's modeling resume soon expanded after joining the ranks of the Briefcase Models on the NBC Game Show Deal or No Deal, joining the program during it's second season. She first stood beside Briefcase #15 for a couple weeks before rotating back and forth between a substitute Briefcase Model and a Banker Model.
During season two, Keltie subs at nine different cases, most of the time Briefcase #15 (first regularly held by Lanisha Cole, then Brooke Long). She also subbed at Briefcases #8, #10 in two episodes, #12 usually, #14 in two episodes, #16 in five epsiodes, #17 in three episodes, and #18 recently (Marisa Petroro was present and substituted at Briefcase #2)
She then becomes a permanent Briefcase Model during the third and fourth seasons of Deal or No Deal standing beside Briefcase #4 to replace Lindsay Schoneweis all the way to the show's end in May 2009. In season five, she is being replaced by Brenda Lowe.
Keltie also appears on the Deal or No Deal slot machine along with fellow Briefcase Models Ursula Mayes, Lisa Gleave, and Claudia Jordan.
In her spare time, Keltie enjoys going to the beach, lying by the pool, or just relaxing with her fireman boyfriend. She is also a big animal lover and looks forward to rescuing and adopting animals.