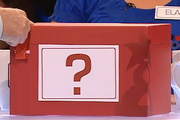 Box ? has been featured in many adverts and posters of
Deal or No Deal UK
, but it has never appeared in the game. The Box ? is a box like all others apart from the fact that it has decorations on the bottom right hand side of it. The Advert Box does not have decorations.
The Box in game
Edit
The Box contained a sign saying "BANKERS GIFTS." It first appeared in Elaine's game, where she sold her grandaughters tiara for £20,000 for a deal to the banker. She had the £250,000  remaining and took it out the second box after her deal. The Banker then told her that he would smash it. However, at the end of the game, where her box was opened to reveal a £5, Gary brought in the box. Noel then said that Elaine could keep the box.
Box in adverts
Edit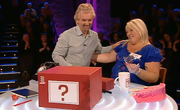 The Box is used in most averts and posters of Deal or No Deal. It does not have the decorations and is a completely seperate box from the one Elaine took home.