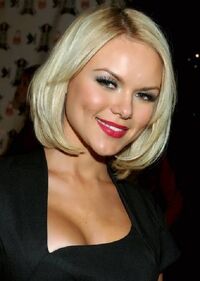 Anya Gennadievna Monzikova (born August 25, 1984 in Vologda Russia SFSR Soviet Union) is a Russian-American Model and Actress. She is best known to TV Game Show audiences as Briefcase Model #10 on the NBC Game Show Deal or No Deal.
Born in Vologda, Russian SFSR, Soviet Union. Anya lived in Russia until the age of eight, when she and her family made the move the US, making their residence in Florida. After she graduated from high school, she moved again to Los Angeles, California to pursue a career in acting. She currently is studying Wushu and taking stunt classes in the hopes to do her own stunts when she stars in an action movie.
In February 2006, Anya was one of several newbies to joins the ranks as the Briefcase Models on the NBC Game show Deal or No Deal. During the show's first week as a primetime regular, Anya stood beside Briefcase #19 and the following week she moved to Briefcase #10 which would be her permanent residence all the way until the show's end in May 2009. In season five, she is being replaced by Vaeda Mann.
Since Deal or No Deal drew to a close, Monzikova has moved on to landing various guest starring roles on TV shows as well as supporting roles in movies.