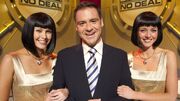 Andrew O'Keefe (born 1 October 1971) is the host on the
Australian version of Deal or No Deal
.
O'Keefe first started his television career in 2003, starring in Channel Seven's AFI-nominated sketch show Big Bite (the same show on which Summer Heights High's Chris Lilley had his TV debut). Late the same year he began hosting Deal or no Deal, the first version of the show outside its home country of the Netherlands. It has been on screen continuously since 2003, has run to over 1,500 episodes to December 2010.
In 2001 he was a member of the Australian Theatresports team that won the Just for Laughs Improv Tournament at the Montreal Comedy Festival. He played Theatresports most Sunday nights at the Belvoir Street Theatre in Sydney, winning a Cranston Cup series with two-man team Dirty Harry's Bathwater.
In 2004, O'Keefe co-hosted the historic tri-network tsunami appeal Reach Out with fellow presenters Eddie McGuire and Rove McManus. The appeal raised over $20 million for tsunami relief efforts around Asia. The event was such a success that the three teamed up the following year to host the Logie awards.
In 2005 he hosted the short-lived Dragons Den.
From 2007 until 2009, O'Keefe hosted the quiz show The Rich List and in 2006 took the helm of Weekend Sunrise, which he currently hosts on Saturday and Sunday mornings with journalist Monique Wright. In addition he has substituted for David Koch on Sunrise. He presented the program for two weeks whilst Koch was on holidays during the summer period of 2013 alongside his former Weekend Sunrise co-host Samantha Armytage.
In 2010 O'Keefe appeared in the Christmas special episode of Review with Myles Barlow.
O'Keefe is also an accomplished singer, classically trained and qualified.
On 31 May 2013, O'Keefe commenced playing the role of King Herod in the Australian tour of the Jesus Christ Superstar arena show and received 'rave' reviews. However, on 14 June 2013, he was admitted to hospital with a serious neck injury requiring surgery, and was forced to relinquish the role for the rest of the tour. O'Keefe believed the injury was aggravated during a performance of the show.
In 2013, O'Keefe came under scrutiny in the wake of the NSW Bush fires after his controversial interview responses with Steve Sherwood.
Ad blocker interference detected!
Wikia is a free-to-use site that makes money from advertising. We have a modified experience for viewers using ad blockers

Wikia is not accessible if you've made further modifications. Remove the custom ad blocker rule(s) and the page will load as expected.