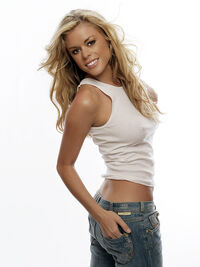 AJ Almasi (born Andrea Almasi on June 5, 1985 in Hendersonville, Tennessee) is an American Model and aspiring Actress. She appeared as Briefcase Model #19 during the Premiere week of the NBC TV Game Show Deal or No Deal in late December 2005.
Growing up in Hendersonville, Tennessee as an awkward "tom-boy" with braces and glasses, AJ had never believed this was something she could do but, at the same time she loves doing it. She was told by family and friends that she has a "bubbly" personality and that she can do anything in the world as long as she believes in it.
Almasi soon transformed into a beautiful, glamor girl as she made the transition to Los Angeles to begin a career in both modeling and acting. In December 2005, she landed a gig as one of the 26 Briefcase Models on the newly NBC TV Game Show Deal or No Deal during it's Premiere week (aired during the week of December 19-23, 2005), she stood beside Briefcase #19.
AJ stays focused on her career in modeling and acting in L.A. and hopes to do a lot more of it.
Ad blocker interference detected!
Wikia is a free-to-use site that makes money from advertising. We have a modified experience for viewers using ad blockers

Wikia is not accessible if you've made further modifications. Remove the custom ad blocker rule(s) and the page will load as expected.