£250,000
Talk

0
57pages on
this wiki
£250,000.000
Where on the board
Bottom Right
Which version is it from
UK
How many winners are there of the amount
2. Laura Pearce and Alice Munday
An interesting fact
There are 26 winners of the 1p, but only two of the £250,000.000.
Nicknames
The Biggie - Quarter Of a Million - Top Power Five.

£250,000 is the highest amount on Deal or No Deal UK. It has been won by two lucky contestants. Alice Munday and Laura Pearce are the only two to have won the big amount. The last two amounts are £100,000 and £250,000 and sees the most and largest difference between them.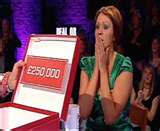 Laura Pearce declined the offer of £45,000.00 when £3,000 and £250,000 were left on the board. She claimed that her father was the most important person in her life. Her box, number six, was her fathers birthday, and therefore refused the swap. Her box contained £250,000, 7 January 2007
Alice Munday had perhaps the most legendary game in Deal History. She accepted the bankers offer of £17,500.00. Because she dealt so early, she kept the 1p and £250,000 on the board. The Banker then offered the Bankers Gamble. She accepted and declined the swap. Her box (number 8) contained £250,000.00, 12 March 2009.
Facts about the £250,000.00
Edit
 Jonathen Bunney had the £250,000 on the board along with another high amount. His game was on 31 January 2007, only a few weeks after Laura's game. Bunney was known to be one of Deal Or No Deals Biggest characters. He accepted the offer of £110.000.
The Banker Sacking
Edit
Due to the rash act of giving the Bankers Gamble to Alice, the banker was sacked after she won £250,000. A new banker named Geoff Trump was hired, and again fired for being too rude to Noel. The Origional Banker returned.
After Laura's game, the banker was apparently sobbing in his room.