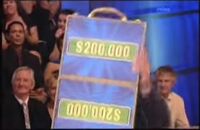 The top prize of the Australian version of Deal or No Deal is $200,000. Four people have won it. Dean Cartechini was the first winner of the top prize, which the episode aired in June 17, 2004. Anh Do was the second winner in September 19, 2007, (though the money won was delivered to a home viewer), followed by Leanne Benbow in June 2, 2010 (the first woman to do so), and Chris Doyle on August 23, 2011.
YouTube Videos
Edit
The First $200,000 Win!
The Third $200,000 Win!
The Last $200,000 Win!